Rolled out of Cedar Falls around 6:00 PM to 65 degree temps and a light south wind. The plan was to get in about 50 miles or so and a very casual pace.
Buchanandale
wasted no time in introducing his sponsor to the group.
(L to R) Fox, Fry, Buchanandale, and Saul enjoy the early miles.
Still roll'n.
The farther West we went the better the view became.
Fox crests one of the rollers.
The rest of the group crests the same hill.
J. Fry rides off into the sunset.
Does it get any better?
A
Trans-Iowa
moment...
On the final leg into Parkersburg, the sun was pretty much gone.
Once we got into Parkersburg it was time for calories and liquid.
It's a
"Miracle"
we made it.
On the way over, I kept having to listen to Buchanandale ask
"Are we there yet."




J. Fry insists he will look like
"Fat Albert"
in the off season.
The crew loads up on their nutrtion outside the Kwik Star.
Next stop is darkness, gravel, and 25 miles to get home.
Roll'n into the first section of gravel after the food stop.
Amazing what you can do with a slow shutter speed on the camera.
I need night vision...or a stronger flash.
Fry, Fox, and Saul rage!
Getting creative....
Getting creative again....
Saul claims that his
Twin Six jersey
gives him super powers.
Buchanandale rolls out of New Hartford.
Waiting around for the group to regroup.
The final leg into Cedar Falls and Waterloo. You can see town in the background.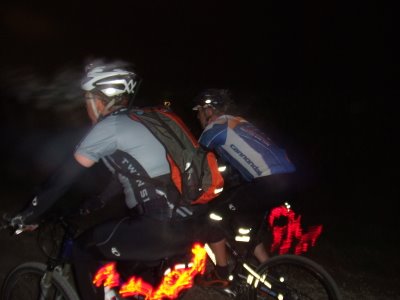 Mission accomplished!
Thanks guys!!!